I got myself started back into the craft thing by cross stitching since it's VERY simple to do and kind of brainless.

I actually started by completing a rather small kit of this baby possum kit which is JUST as adorable as it looks. Unfortunately I haven't been able to get a good photo of it just yet

After that I decided to tackle a bigger project. I've had this tiger kit from Janlynn's Wildlife Series on me for quite a while; recently someone in the cross stitch community here on LJ posted their version of it which really inspired me to get going on this one.

So here's my current WIP, as you can see, I'm almost finished.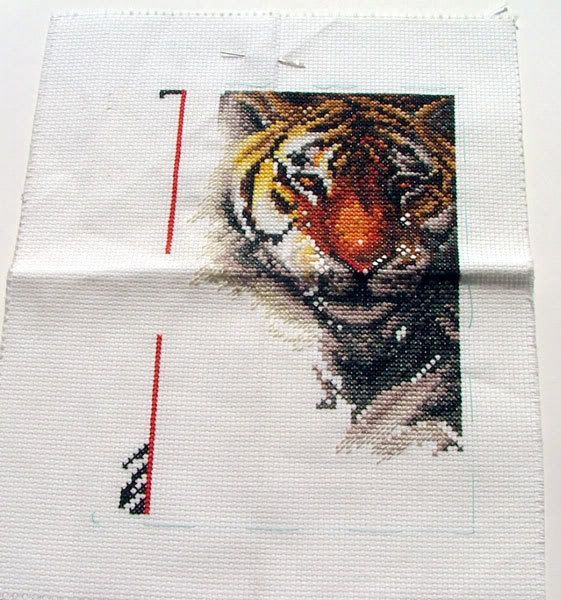 (please pardon the huge crease, I'll iron that out when all finished)

I've previously done the wolf of the series as seen here.

I've also actually have people to cross stitch FOR finally! Two of my cousins are now pregnant(!) Jo's due in December and she'll be first, I believe. I've decided to make her two baby bib's and found some really amusing patterns!

This is the first of two.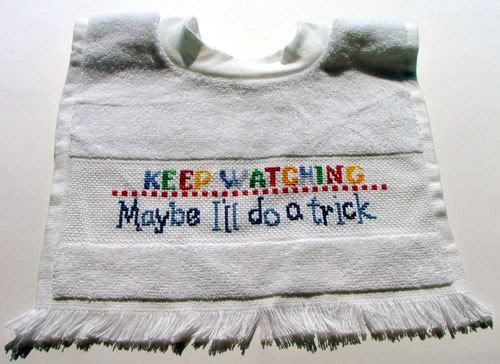 I switched in some variegated thread for the "Keep Watching" part instead of the solids they recommend, which I'm happy with. The pattern recommends to outline those letters in a dark cranberry color, but I'm not sure it's necessary. What do you guys think?

Cute huh!? I'll start in on the second bib next and finish up the tiger and we'll see about what I can do for Sandra.