This past Sunday we took a family trip to Ikea to see about getting my brother a desk (he also had never been to Ikea before, that was a treat!)

While there though my mother got this lovely HUGE new cutting block which now resides beside our sink. It's fantastic, it's got great deep grooves and is so big it can hold lots of stuff!

Dinner tonight was very Italian and SO tasty.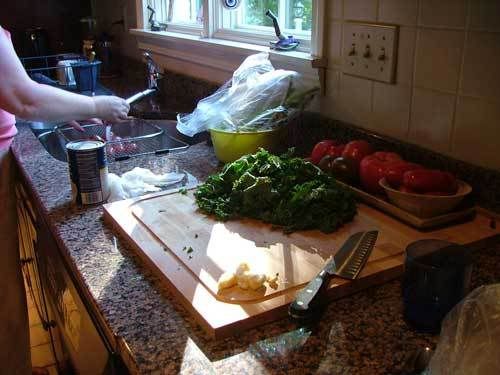 We had kale, white beans, and chicken sausages mixed together, baby potatoes, zuccini and red onion as well as a Caprese salad of baby greens, heirloom tomatoes, baby mozzarella balls and basil toped with an balsamic vinegar and EVOO dressing.



(sorry for the blurry picture, I simply could not get my camera to focus!)

Oh man, it was SO tasty, and between Olana, my parents and brother and I all home we had good conversation to boot.

It was SO YUM!