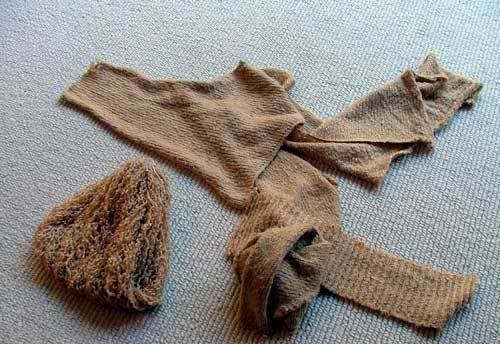 Behold! Since I had a few hours of time at home with nothing to do...
(ok, I SHOULD have either been writing emails or start organizing all my stuff that's just sitting in the garage...)
I began work on this masterpiece!
NO, I'm not knitting myself a sweater. At least not yet.
One of the Filene's Basement's in Boston was shutting down shop and was having a HUGE everything must go sale (90% off everything) while poking around at what was left I came across this sweater in a really ugly cut, but made out of -beautiful- yarn.
The price tag says that it used to be $175(!!!) who'd pay for that kind of ugliness? Blech.
The yarn IS really nice though, it's sooooo soft and in a very pretty caramel color. I've decided that for $3.50 (what the sweater eventually ended up costing me) I'm going to take it apart and use the yarn to make my OWN really nice warm fuzzy pretty garment.
The above photo is my progress so far. I sat down and undid all the seaming today which went surprisingly quickly once I figured out how the seams work, and the big chunk of yarn ramen you see is what I've unraveled and wound up so far. I suspect I'm a little under halfway done.
It's SO SOFT.
I have no idea what exactly I'm going to do with it just yet, but at least I know I have enough nice yarn to do a big project *glees!*
Current Mood:

knots!