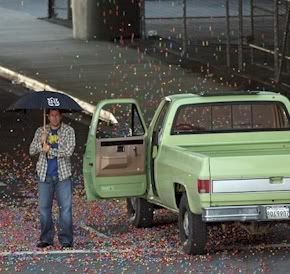 Movie:
Bedtime Stories
Director:
Adam Shankman
Rating:
PG
Runtime:
99 Min.
Plot:
(from IMDB)Marty Bronson who raises his son and daughter on his own has to sell his homey motel to clever Barry Nottingham who promises to make Marty's son manager, when he's grown up and has proven himself. Nottingham pulls down the motel to raise a pricey hotel. Although grown up, Marty's son Skeeter Bronson works as a janitor and general servant, but unlikely as it seems, he still dreams of becoming the manager. When Nottingham announces a brand-new gigantic hotel project, he makes his future son-in-law, base Kendall, manager, shattering Skeeter's dream. At the same time Skeeter's sister Wendy has to leave town for a job interview and asks him to alternate looking after her two children Patrick and Bobbi with Wendy's responsible-minded colleague Jill. He doesn't get along with either Jill or the children, but his easy-goingness loosens them all up and once he starts telling his bedtime stories, the children grow fond of him and begin to bring in their ideas about how the stories should go. When the stories turn out to become true in real life, Skeeter tries to manoeuver the stories into a direction which will make his dream come true, too.
My Opinion:
The first time I saw this movie, it was the third choice out of three of ones we wanted to see. We (mum and I) were taking Isobelle and Angela to the movies. This was also Angela's first movie in a movie theater (Isobelle was very unimpressed; she remembered being told you couldn't go to the movies until you were five and Angela is four; I told Isobelle to get used to it, as an older sister myself I know how lenient parents get with the youngest) Truth was mum and I were a bit nervous about Angela going to the movies too; this child can hardly sit through a commercial on TV.
Anyways. We WANTED to go see Madagascar 2, but when we arrived at the theater we discovered it wasn't playing at the time we thought it was. Bummer. So, next on the list was to go see Bolt but by the time we got to the ticket counter, Bolt had been sold out (it was a rainy day and in the tourist rush of summer there's not much other inside things to do in Coffs Harbour, so the theater was crowded.) So Bedtime Stories it was.
I was nervous because I have to say, I'm really hit and miss with Adam Sandler and kids movies. Sometimes I think he can be very abrasive - he has a tendancy to yell suddenly which I was afraid would scare Is or Angie.
You know what?
I loved this movie.
The kids loved this movie. Since then, for various reasons I've seen this movie two more times and I just keep liking it more (and noticing other details I didn't necessarily catch the first time)
It's just a fun, quirky story, the pace moves quickly enough between reality and fantasy quickly enough to keep kids of all ages (including Angie!) interested and entertained. Even the simple act of cutting to Bugsey (a bug-eyed guinea pig) for the second of sheer comedic relief was enough to set the audience of kids rolling on the floor.
It's no big social commentary; it's intelligent enough to keep adults entertained as well, but really it's just a fun kids movie and it was enjoyed by Is and Angie, it was enjoyed by the two girls and their friends that I have been nannying and it was enjoyed by my mum and my current house-mates (who are letting me crash with them as I finish up the just mentioned nanny job)
Current Mood:

happy